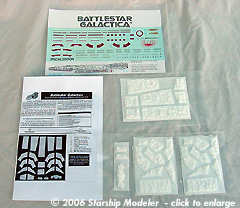 ^ What you get





^ Parts are very cleanly cast

Image: Launch bay & pylon parts

Image: Decals, printed by JTGraphics, provide markings and names for 12 ships


Heady days indeed for a sci-fi obsessed teen in backwater Michigan, begging his parents for a lift into Imlay City to the D&C, where all the new models and rockets came. Little did we know that the show would only get one season - 17 episodes - and that these would be the last new mass-market sci-fi models from Monogram for 20 years.
The Galactica model was typical for sci-fi kits of the time: generally faithfull to the 'originals' in form and outline, but simplified in detail and intended for kids to play with after they built it. Thankfully, this one didn't have the rubber band-powered 'missiles' of the Viper and Raider kits. It did, however, have it's share of flaws. These included missing detail all over, incorrect and super-simplified pylons that hold the launch bays, and decals in the wrong colors.
Even with those shortcomings, it's been a much sought-after kit, since all the BSG kits were scarce as hen's teeth after their original release. All four were reissued in 1997, but stayed in the catalog only one year before vanishing again. Fortunately, we now have eBay and various modeling forums and trading sites, so it's easier to find a surviving kit than it was back in my far-off youth.
Around the time of the only reissue, a small garage kitter doing business as 'Sublevel 3 Heavy Industries' put out a resin upgrade set for the Galactica model. Years passed, they left the business, and these sets became scarce. SMT picked them up for a while, added decals, but then they too left the business. Finally, TimeSlip Creations came along and obtained permission to resussciate this detail set.