By Alfred Wong - images & text © 2000

First, please allow me to introduce myself. My name is Alfred Wong and I have built models all my life. I build aircraft and spacecraft in 1/48th scale and figures in 1/6th, and many of my models are entirely scratch built. I started scratch building figures relatively recently. I have a Fine Arts background and work as an illustrator, but mostly as a storyboards artist and concept designer on TV shows and movies. You can visit my website at http:members.home.net/gototalon.

The reason I mentioned my background is to say up front that I don't think it is truly possible to teach someone exactly how to sculpt a figure. It has to do not just with being blessed with artistic 'talent' but also with a lifetime of training in drawing figures, studying human proportions and faces, anatomy, etc. You know, all that artsy-fartsy stuff! What I will try to do in this article is give people pointers and talk about various techniques and materials.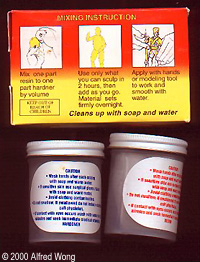 Materials
I use a variety of materials; for very intricate parts such as faces and hands I use a specialized modeling compound called "Magic Sculpt". "Magic Sculpt" is a 2-part epoxy that is GREAT to work with. It is very malleable with sculpting tools, (I use just simple plastic sculpting tools you can get from any craft stores.) You work it dry, and it dries hard in 24 hours and is very smooth and stable, paints up very well with just about any kind of paint. Unfortunately, I have to order this stuff from Monsters in Motion in California, (I cannot find it here in Toronto, Canada). It's fairly pricey since you don't get much in a package, at least not if you work in 1/6th. Scale! So, I will often make bulkier things such as torsos and legs from ordinary plumber's 2-part epoxy putty, which you can get from any hardware store.
Now, the trick with this stuff is that it hardens very quickly and you also need to keep it wet to work it. I always just mix up a little at a time and build it up to shape and not try to get too detailed with it. For detailing I will put a layer of the "Magic Sculpt" on top. But, I have also done entire figures with the plumber's putty as well, so it is possible once you get proficient with it. The biggest problem with the plumber's putty is that it is more porous and unstable, causing problems with painting. You can expect that there will be bubbling from the exposed material after painting, which you must remove and touch up with super-glue, sand and then touch up with paint again, and yes - it's a pain! So, I do recommend the plumber's putty be used mainly as a core with the "Magic Sculpt" as a final layer on top. I have tried sealing the plumber's putty with both white glue and super-glue, but it still bubbles with paint.
It is a good idea to make some generic parts, such as hands, fists, feet and nude torsos as a master that can be cast in resin. I made a nude torso in plumber's putty, and a set of fists and a face in "Magic Sculpt" that I have used as masters for resin casting.

Obviously, you can't use the same face or torso for everything but I have used the same torso for 2 of my figures, and the fists much more than that. I found that open hands are best made per use, as the fingers tend to not turn out well in the casting process, being too fine.