Editor's note: This kit is currently (August, 2001) no longer in production. However, SMT have recently reorganized and are planning to re-master and re-issue this kit, so stay tuned.)
The Koensayr BTL Y-Wing attack starfighter is still the Rebel Alliance's most numerous attack vessel. Until the advent of the X-Wing, it was the Alliance's primary starfighter as well. It was the first Alliance fighter capable of hyperspace, and until the recent addition of the B-Wing starfighters, the only one with an ion cannon system. It is durable and heavily armed, though slow and less maneuverable than the more advanced X-Wing and TIE fighters. Two principle variants exist: the single pilot A4, with improved sensors and computer eqiuipment, and the more numerous S3. The S3 carries a crew of two (pilot and weapons officer) in addition to the astromech droid.
THE MODEL
Despite the popularity of the Star Wars films, there hasn't been a good kit of the Y-Wing in, well, forever. MPC (later ERTL) put out a 1/100 or so scale model shortly after A New Hope, but it was pretty lame: small, poorly detailed and badly fitting. Until late 1997, if you wanted a decent sized model you had to scratchbuild it yourself. That's all changed with Scale Model Technologies' kit.
This kit consists of over twenty parts (primarily resin) and is stated as 1/48 scale. It depicts an A4 model, with a cockpit tub designed for just one figure. However, there are two pilot figures included (at least there were in mine) and it shouldn't be too tough to scratch the additional seat and details for a weapons officer. The command pod and forward engine pieces are hollow cast; the remaining pieces are solid. All are crisply detailed and, aside from the usual flash, nearly defect free. The few pinholes and bubbles I found were all on the back sides of parts, where they would be invisible after assembly. Instead of modeling one of the three slightly different filming models, SMT have decided to give the best basic kit and let you detail it as you like.
One of the best features of the kit, IMO, are the pilot and astromech figures. The pilots (both seated) are not simple recasts of the MPC/ERTL X-Wing pilot, but beautifully rendered miniatures. Each comes with three sparate heads - human in a helmet and two aliens. A standing R2 unit is provided, as is the top "dome" of another, so you can pose him in his slot or next to the fighter on the ground. The rest of the details are equally as impressive, right down to the resin landing gear.
The instruction sheet is easily the most comprehensive I've ever seen in a garage kit - and puts many mainstream offerings to shame as well. There are 7 pages of step-by-step instructions, each with detailed diagrams. There also three color pages of painting guides and references. No decal sheet is provided- which is not a burden, as the craft's minimal markings are easy enough to mask and paint. Of note, the instructions talk about using metal wire to simulate the piping conduits on the central engine section. This wire (actually 1-2mm solder) was not included in the kit, due to some obscure Canadian regulation. Replacements are easily and cheaply found at any large discount hardware or department store, however.
My only concern with the kit is the brittleness of some of the parts. My kit arrived with some minor breakage, and I've managed to chip off a piece by dropping a part on the workbench. I'd be a bit worried about the landing gear holding up over the long haul -- but since I plan to build this "in flight" it's not a concern. Otherwise, it looks like it will be an easy and rewarding build. The parts I've dryfitted fit together well. Clean up will be simply a matter of removing the pour gates, sanding the flash down, and washing any residues off. That's a nice change of pace from the usual tedious fixing of surface flaws and adding detail.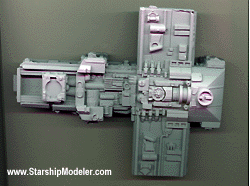 Central power plant area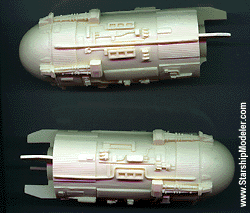 Engine pods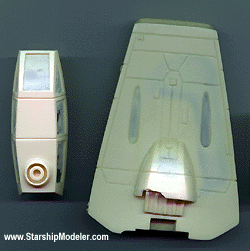 Underside of command pod and canopy framing. Like the studio models, no clear parts are provided for canopy "glass".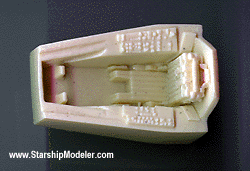 Cockpit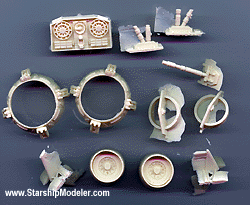 Engine detailing, thruster vanes, & landing gear.