Starship Modeler Exclusive!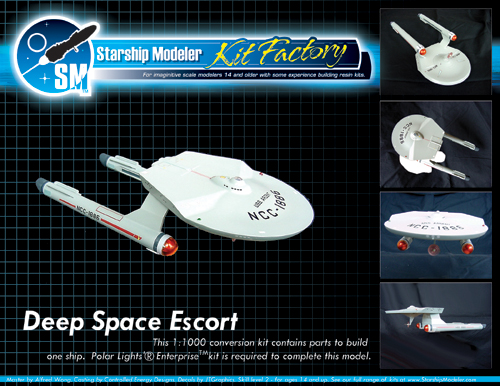 Click on any link to view image




1/1000 Deep Space Escort Conversion

Starship Modeler is proud to announce the Deep Space Escort conversion kit for the Polar Lights® Enterprise™. The kit, comprised of 4 resin parts, (including optional sensor dish support) includes ALPS-printed waterslide decals with markings for two ships (Ardent and Vigilant). Parts needed from the Polar Lights kit are a clear bridge dome, warp nacelles, sensor dish if desired and some decals.

Price: $42.00 USD (~$50.43 CAN/ € 31.33 EUR/ 279 SEK)
Shipping Weight: 1 lbs/ 2.2 kg

Payment is accepted by credit cards (via PayPal), check drawn on a US bank in US funds, or money order in US funds. International (non-US) orders welcomed.

To order, please click here.

Go back up | Starship Modeler Store | Starship Modeler Home | Site Map | Feedback
This page copyright © 2003 Starship Modeler™. Last updated on 6 December 2004.