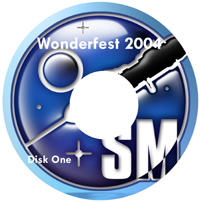 Starship Modeler has compiled a 3-CD set featuring images and movies of models, people, and events at Wonderfest® 2004 in Louisville, Kentucky. All images are JPG format. Some have been digitally enhanced (color balance and/or lighting); all are their original sizes -i.e., not optimized for viewing on the web. Movies are in MP3 and AVI format.
These CDs are being made available for a $6.00 USD (~$7.84 CAN/ € 4.86 EUR) donation to Starship Modeler. This donation covers the cost of producing the CDs as well as postage to US, Canadian and United Kingdom addresses (people outside these areas, please contact us for your postage costs) - we're not making a profit, just providing a service. Payment is accepted by credit cards via PayPal, check drawn on a US bank in US funds, or money order in US funds. International (non-US) orders welcomed.
To get your set, please use the form below.
---