Sample pages. All artwork © Doug Chiang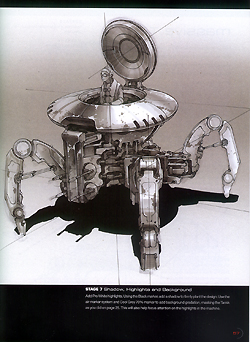 ^ Concept walker tank.

Image: Monopod, in progress





^ Flyer concept (finished)


Design Tool Kit,
Markers And Paper,
Sketching Basics,
Foundation Lines,
Digital Painting And
The "Keys To Good Designs".
This is followed by 25 or so step-by-step tutorials, showing the designs of
Robots and Machines,
Walking Machines And Transports,
Creatures And Aliens,
Spaceships and Aircraft ,and
Drama and Scenes
An Afterword and Index complete the book.
The reader sees the design progress from quick sketch to finished art in each tutorial. Each illustration is accompanied with text describing what's happening at that stage in clear, easy-to-follow prose. Tips and hints (in sidebars) are scattered throughout the lessons.
What's In It For Me?
So - it's a book on drawing pretty pictures, filled with pretty pictures. What's in it for the sci-fi modeler?
Quite a lot, actually. Inspiration, for starters, found in page after page of nifty designs. I must have spent hours poring through the robot and walker designs, figuring out how he articulated the legs and other appendages. The spacecraft designs make me want to pick up my scriber and some sheet plastic and start cutting out shapes. I'm not one of those people who can just pick up a couple model parts and re-arrange them into something cool (my kitbashes tend to look a mess). But give me a visual reference to start from ....
More valuable, though, is the thought process behind the designs and the way he works through each stage - at least for me. The steps he goes through to finish the drawings, making them come alive, can translate pretty straightforwardly to painting and weathering a model. (The 'Steambot' tutorial on pages 50-53 illustrates this nicely).