Image: Here is the mech with the initial layer of paint.
Image: The Locust with the base color dry brushing complete, and the USMC green trim color applied. Note that I added bent steel beams and some rebar to the rubble. This was washed and dry brushed with rust colored enamel.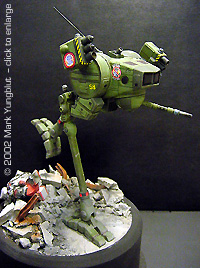 Image: The battle damage was airbrushed and enhanced with pastels
Image: As a final touch, I added a destroyed Clan Elemental (power armored trooper) to the top of the rubble pile
I decided to paint the Locust in a green paint scheme depicting a mech that is pat of the 1st Federated Suns Armored Cavalry. I started this by painting a base coat of Humbrol olive drab. Once this had dried for two days, I gave the entire model a wash of dark green mixed with black oils. This was allowed several days to dry, before I started with the drybrushing highlights.

Once the oil wash was dry, I gave the entire model a shot of Humbrol clear matt to seal the oil wash. I then started to dry brush progressively lighter high lights over the entire model. Once the shading and contrast were at an acceptable level, I painted the trim green in Humbrol USMC green. This was dry brushed as well.

I allowed the model two days to completely dry before I gave it a clear gloss coat for applying decals. John Lester was kind enough to make some decals from artwork that I provided, so the proper Fed Com markings were applied to the missile launchers and other parts of the mech. I also had a unit nickname decal made that depicts a hand with a scrub brush and a red circle with a slash through it. Above and below this it says "The Great Unwashed". Additional decals such as warning stripes and aircraft type maintenance markings were then added. These were allowed to set and then the model was coated several times with Humbrol matte finish. When the finish had dried, I weathered the model, adding battle damage, scrapes, and scratches with silver. I also added gray pastel dust to the base and the lower portion of the legs.

So There You Have It .....

Scratch building a model is neither a "black art" that can only be mastered by a few, nor something that requires a $10,000.00 shop to accomplish. There are a variety of techniques that can be used to build quite effective models using the tools you already have. The important thing to remember it to try to plan out as much of the build as you possibly can. This does not mean you need to have extensive plans to build from, rather that you plan out the steps that will need to be taken in order to build the model.

Most of all - don't be afraid to try! Learn by doing - and practice, practice, practice.