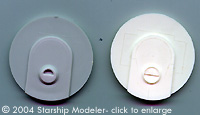 ^ Side-by-side comparison with the kit part (left)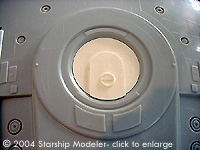 ^ So easy to use
What You Get
NorthTrek's accurization kit gives you one piece of resin and simple directions for using it, all in a little ziploc baggie. The new piece just drops in to the place the kit part would otherwise inhabit.
There were no evident bubbles or pinholes on my sample part, and only a small mold seam around the circumference of the part. I won't even bother cleaning that up, as it won't be seen on the model. Scribed detail on the piece is a little faint, but so is that on the kit piece. It shouldn't disappear unless you get crazy with the paint. The piece fits perfectly in place; I see no need for filler, and the alignment of the detail looks perfect.
NorthTrek provides a quick and dirty paint guide. The colors called for look right.
Conclusions
The detail on this piece is far superior to the kit-supplied part, and using it could not be simpler. I recommend it to anyone, novice or past master, looking a quick way to improve their ERTL Defiant.