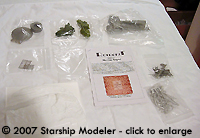 ^ What you get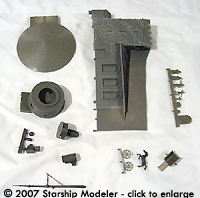 ^ Resin parts, some of which are exceedingly fine, yet there was no breakage in my sample.

Image: The detail is extremely fine throughout, as it is here on th collection basket

Image: Look at the little people

Image: White metal parts

Image: Assembly instructions are basic but adequate

Image: PE frets

Image: Closeup of the base


Retrokit are primarily known for their armor and artillery models. This model of H.G. Wells (in)famous Martian Tripod is their first science fictional offering. It's based on the illustrations of Alvim Correa in a 1906 French edition of the novel, drawings that Wells said were very close to his own vision of the fighting machines.
What You Get
Inside the sturdy cardboard rest a vac-formed base, 21 resin parts, 13 white metal parts, 2 small photo-etched steel frets, 2 small plastic balls, 2 small bags containing landscape flocking and a fully illustrated 6-page instruction booklet. In addition to the Tripod you get various human figures, rearing horse, cart, benches, gates, part of wall and trees to build a complete diorama of a churchyard under attack. The completed Martian will stand about 7 ¾"/ 20cm tall; the base is about 6" x 8"/ 15cm x 20cm.
The Martian consists of resin body, weapons, basket and antenna mast with white metal 'arms' and 'legs' and the two plastic balls (not included is fine wire for the optional tentacles; I would suggest the finest solder you can locate for these). The rest of the resin and white metal, plus the PE and flocking, are for the diorama scene. Retrokit appear to have gone to great lengths to recreate Mr Correa's vision from the various (and differing!) drawings he made, and some of these parts are labeled as optional in the instructions (the mast and the collection basket primarily).
The smooth grey resin is phenomenally cast, with absolutely no flaws and only the barest hint of flash. Detail is extremely fine and well rendered, right down to the ivy on the church wall. The rearing horse is nicely done; the rest of the figures (priest, woman with baby and two men), while superbly cast, are posed as if they are watching a ball game and not watching in terror as an alien monster wreaks havoc. That's a minor quibble - N-scale figures are easy enough to find at hobby shops that specialize in railroading if you don't want to try to modify these. The resin parts fit each other very well - assembly should be pretty painless.
The white metal parts (the Martian's arms, legs and two trees) are equally well cast with only a hint of mold seams. There are some pour stubs you'll have to remove, but cleanup should be quick. Two extra arms are included. You'll need to bend the arms and tree branches to get the pose you desire; the metal is soft enough you can do this by hand.