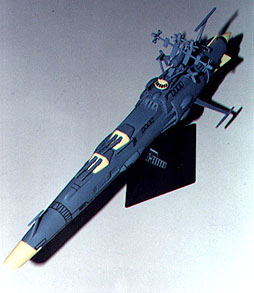 The finished Patrol Cruiser, looking down
from just above the bow.
By today's standards, this kit may be a little wanting, but it was a state-of-the-art product when it hit the market in the late 70s/early/80's. The kit is composed of 57 flash-free parts, molded in two colors. This includes a small medical rescue craft (called a "lifeboat", in the instructions). It's unclear whether this lifeboat is to scale (1/700), but it looks like it may be a little large - say around 1/200.
All panel lines are heavily engraved. This is one of the features where the kit shows its age. The depth of the engraving is reminiscent of the 1970's Matchbox offerings - a little too much. The panel lines improve dramatically with later kits in the series, such as the 1/700th EDF Battle Cruiser. There are also some slight problems with the lines "fading" as the get closer to edge of the rounded hull halves. But these drawbacks are easily addressed.
The Patrol Cruiser requires no decals, but there are "stickers" provided for the lifeboat's markings. Needless to say, waterslide decals would have been preferred. This features plays to the "toy" qualities of the kit.