Click on each picture for a (much) larger view. Warning - these are BIG files!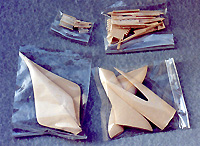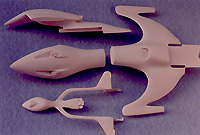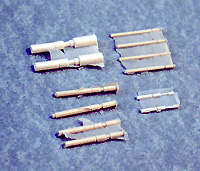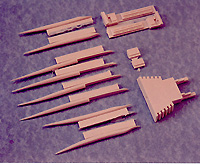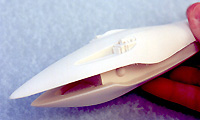 You can imagine my excitement when I arrived home one evening to be greeted by a padded box filled to the top with the most beautifully cast resin pieces I've seen in a very long time! Lately, there seems to be a resurrection of finely crafted science fiction model kits and this one will stand out as the best in the space ships category.

The kit contains 36 quality cast resin parts, an instruction booklet with clear, easy to follow hand-drawn assembly illustrations, and several pages of color printed painting guides for all of the surfaces.

Test fitting the parts revealed just how well engineered this kit is. All of the pieces are cast whole and each mold line and part attachment point fall along natural hull lines and connection points. The only area that appears to be a problem will be connecting the forward and main hull together. Both parts are relatively heavy solid resin pieces and at least 2 brass pins will be required to keep these parts together. Putty will be used around the joint to fill the inevitable gap. The instructions are good at pointing out areas that need special attention to strengthen the model as well as areas that have specific geometry needs.

Molding quality is quite exceptional, and it's evident a lot of care was taken to produce the molds for this kit. The surface areas are devoid of blemishes and pinholes often found on resin kits. Air bubbles are found only along edges that were exposed to air when casting the part, and these edges are always covered up by attachment to another piece. Flash is present only on the smallest parts, and what little there is, is paper thin and easily removed. Small stubs are present along the edges of some pieces; it appears these were necessary to catch any stray air bubbles. Each seam line is very small or nonexistent. Clean up on this model will be very easy.

I recommend this kit to anyone who is interested in purchasing a finely crafted resin model. The casting quality, clear instructions, and complete color painting guide make this kit well worth the $160.00 price tag.

Inquiries and orders should be directed to: Stephen Sekulic, 8813 - 6 st. S.E., Calgary, Alberta T2H 1M1, Canada. (or email IFactory at aim@cheetah.spots.ab.ca (or aim@spots.ab.ca)). Ifactory asks you please allow 10 - 15 days for personal checks to clear prior to shipment.