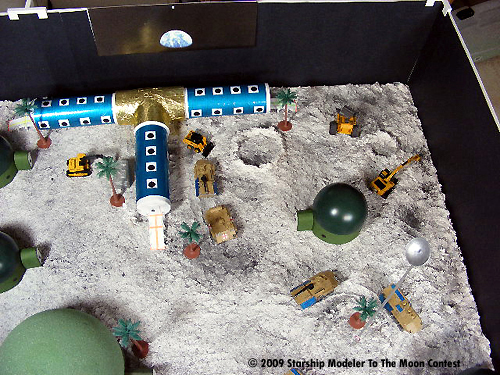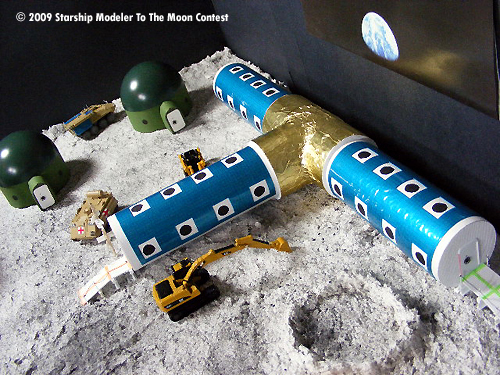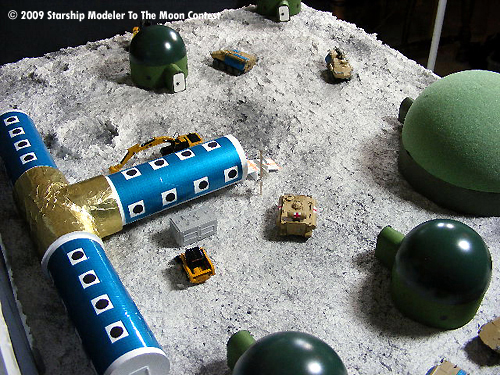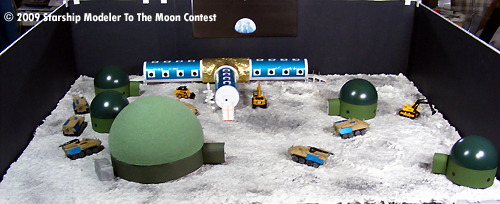 by Duane King

Scale: Not stated


One of mankind's return to the moon bases is located in the Montes Apenninus Range. This colony goes by the acronym of M*A*S*H as in Montes Apenninus Space Habitat. Started first as a collection of smaller domes units, the habitat finally included a T shaped three shelter system and garden. Vehicles intended for longer trips on the moon are similar to the LAV's and M113's found on earth. The M*A*S*H also is in need of a fleet of small construction vehicles, derived from earth based counterparts. As a nod to preservation, local features , if disturbed, will be re-established.

This region was chosen because it is located near the Apollo 15 Landing Site, which has been declared a World Heritage Site, and cannot be disturbed. The large dome is a hydroponic garden and relaxation area. The smaller domes were originally habitats, but can be transitioned to other uses as needed.

The diorama base is 40 inches by 30 inches (two pieces of foam core board side by side), covered with Sculptamold. This was then decorated with several different shades of ground up pastel chalks and allowed to dry. The diorama sides are also foam core board covered with black posterboard. The Moonrise picture came from a calendar page. The T-Shaped habitat, roughly 11 inches by 19 inches. It is constructed from 2 inch PVC and a T Union. The T is cover is gold floral foil (had to rub the flower pattern off the foil before application). The straight parts ,after gluing into the T union, were wrapped with white card stock with cutouts for black windows (also cardstock) secured with double sided tape (dst). Over this was wrapped the solar panels which are hand drawn lines on silver cardstock covered with a blue tint cellophane film, and also secured with dst. The hatch areas are card stock on the ends, with sheet styrene hatches and hand wheels from model railroading. The entry ramps are scratch built from I beam and tile sheet with rod stock for the cable supports. The cables are sewing thread tied and glued to the upright rods. The ramps were painted white and then painted with neon acrylic paints by hand. The sign post is a wooden dowel with hand lettered signs pointing the way to Home, Darkside of the Moon, and the various Apollo Landing Sites. The Large Dome, the Swamp, is a floral arrangement item inverted for my use as a dome. The smaller domes are 100 mm hemispheres painted with hunter green spray paint. The domes are supported by cardstock rings (9 feet at scale) and entry hatch areas. These also have railroad hand wheels.

The radio mast is aluminum rod with a scale basketball backboard and hoop, scratch built., and has an antenna from a lunar landing kit. The power generators are railroading accessories.
There are three pre-painted and -assembled construction vehicles shown: a John Deere Skid Steer Loader from Ertl, a CAT excavator from Norscott, and a Tonka excavator (this was a gift from the girlfriend when one day I mentioned how neat it would be to own one of those small bobcat type excavators.....she said this will do).
The LAV's and M113 are from Trumpeter. Each was painted by hand with desert tan to added color to the barren moonscape. The two LAV -R (Recovery type ) and three LAV-C2's (Command and Control) were decorated with solar panels made from tile, painted silver and then painted with clear blue. The LAVs and M113 vehicles had external tanks made from Plastruct Half Round shape with sheet styrene end caps.
In the later M*A*S*H scene a Disney Wall-E has been added just for fun. It also has Palm Trees added, again just for fun; their function in the colony is to prove color and solar panel/radio tower capabilities.
Image: Main structures
Image: Basketball net
Image: LAV (recovery variant)
Image: Another (command variant)
Image: Left side
Image: Ambulance
Image: Overall, from front
Image: Back
Image: Signpost
Image: The "Swamp"
Image: Generator
Image: Yellow gear