Mitchell-Hyundyne SA-23Y Electronic Counter-Measures Starfury - Black Raven Squadron
The ECM version of the SA-23 Starfury was created to support battle group movement with both long-range deep-space scans, as well as communications jamming. The JTW-40 unit completely blankets a wide cone of space with electronic noise, rendering standard military communications gear useless. SA-23Y's were used extensively just outside Mars orbit in the Civil War of 2261 when the Black Raven, Shadow Hawk and Islamabad squadrons were positioned in a 130% overlap coverage area around Mars.
The Y-version of the venerable Starfury sports the following changes to the standard SA-23 model:
Extended life-support stores, backup batteries and oxygen recycler capabilites
A pair of wide-angle SLD (side-looking-detector) sensor arrays
An underwing-mounted Dowd Array for long-range scanning in infrared, radio, millimeter-wave and visible light ranges
An inside-wing-mounted General Products JTW-40 jamming package, providing communications jamming in a 1.5 steradian cone
A laser comm link (mounted aft on the JTW-40, for communications during jamming)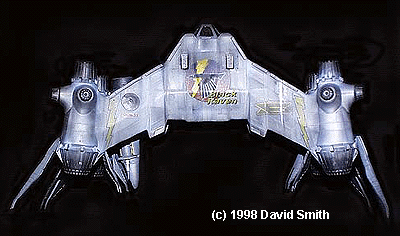 For deep-space scanning missions, SA-23Ys can be dropped from a jump-point capable ship, and left in its low-emission low-power mode, scanning in a slow-roll manuever. Scanning periods of up to 16 hours can be achieved with extended life-support. Enhanced batteries and life-support stores make full-shutdown of the main reactor possible, and when combined with low-reflectivity coating, makes the Y-type nearly invisible.
History
The Black Raven squadron has served with distinction over the years, including their current stay aboard the EAS Invincible. Their history extends back continuously to the mid-20th century on Earth. Their raven insignia has changed little since the days of the first 'ravens', EA-6 Intruders launched from aircraft carriers. The addition of lightning-bolts, from other ECM squadrons, completes the current insignia.
I built the Y-type with the F-111 Raven and Intruders in mind. Since the fury is not aerodynamic, their packages need not be covered with cowls or radomes. I used the standard Revell kit, and bashed with pieces from several airplane and car kits, as well as some stock sheet and rod styrene.