I'm a straightforward person, so here's the deal: Nothing new in building this kit and my next one will be much better. The normal putty-sand-prime-putty-prime-sand method applies in doing away with the seam where the main hull meets the engine wing section. I used 400, 600, and 800 grit sandpaper and Testors red putty and Painters' Touch wet/dry sandable primer.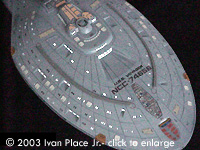 The wings are movable yet rigid due to the usage of brass rods and still retain the 'click' when positioned in the upright configuration. The only othere extras are simple LED lighting. To opaque the model for light leaks the inner and out hulls was sprayed with flat black, then gloss white was used for the inner hull. Aluminum tape was used in select areas for additional internal light reflection.
Three white LED's were used to light the forward hull, and one for the main hull that is bright enough to light the after-market deflector dish. Each engine had one red and blue LED. I did not separate the bussard compartment LED because the blue light reflecting onto the red gives the 'watermelon pink' effect for the bussard area. Front and rear impulse engine areas were lit with a single red LED.
I airbrushed the model the best I could with the paint scheme from original studio data with resources from SSM and other model sites. If I were an airbrush artist or Pro, it would be 'dead-on.' The whole project took no more than 30 hours spread over ten days. The most time consuming part was applying 95% of all those aftermarket decals!