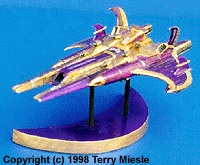 AoG's Octurian by Terry Miesle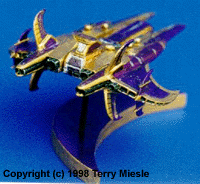 Rear View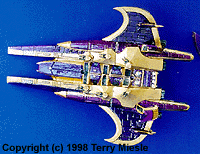 Bottom View
Side View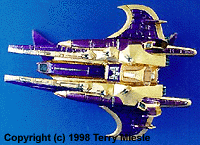 Overhead View
Centauri Octurian Dreadnaught
Brutal, massive, and expensive, the Octurian will ruin anyone's day. Designed to anchor an offensive force, these massive vessels are too expensive to operate in any real numbers. They are, however, extremely effective units and were used in the bombardment of the Narn homeworld with mass drivers.
This kit is BIG, really big. It's a full pound of alloy. It consists of 24 parts: central and 2 outer hulls, 2 main wings, 2 outer vertical wings, 4 outer hull wings, a bridge section and 12 twin array batteries. My parts were cast well, with no glaring miscasts. There were two cracked areas on the outer hulls, which I filled with Gap Filling Superglue (GFS) and sanded smooth. All parts were cleaned with dish soap and a toothbrush before any work started.
Assembly:
After a quick test-fitting, I observed a serious gap between the central and outer hulls. I decided to remove the locator pins, as they aren't a tight fit anyway. The corresponding holes were filled with GFS, and filing was employed to make the parts fit together correctly. The hull was glued together with GFS.
The wings gave me a bit of trouble. AOG did not provide planviews of the Octurian, but it seemed the wings should exhibit a significant anhedral, perhaps 20 degrees down. When test-fitted in this manner the large slot for the vertical wing makes sense, as it allows them to fit fully vertical. I glued the main wings on, then began working on the outer vertical wings. There was a bit of gap, in both vertical and horizontal wings. I used a bit of styrene strip (evergreen) to make the gap as small as possible, then built the area up with GFS while attaching the wings.
I smoothed the area on the central hull where the bridge attaches, and removed the locator pin on the bridge piece with a large file, then attached it with GFS. I attached the secondary hull wings at this time, too. Note their outward cant.
I had decided to not use the included bases, as one pound of metal would probably cause me troubles later. I drilled the base holes a bit larger and substantially deeper on my drill press, so they could accept the cut-off nails I'd use for support. The twin array turrets would wait until last.
Painting guide:
Primer: Tamiya Flat White
Base Color: TCB Grape Pearl
Gold details: TMM Gold
Chrome details: TMM Chrome Silver
Central Hull: 50% TMM Gold 50% Testor's Copper
Twin Arrays: Testor's Brass with TMM Gunmetal barrels drybrushed with TMM Chrome Silver
Engine details and wing insets: TMM Gunmetal and TMM Chrome silver drybrushing
The painting is straightforward, and any tips detailed in the Vorchan or Primus reviews apply here. As usual, remember to apply a clearcoat lacquer between stages. I used Testor's semi-gloss, as this is a metallic paint. After all detailing was done, I used a Micron drafting pen to add black highlights such as panel lines and color differentiation. The engine section was given a brushed-on coat of Testor's dullcoat lacquer to make it less glossy.
Base.
I cut the base out of 1/4 inch oak in a typical Centauri crescent shape. I drilled holes for the nails and coutersinks so they fit flush to the bottom, the nails had been cut to identical length with a hacksaw. The bottom was then coated with a two-part epoxy, which holds the nails in place. After several days, the epoxy was sanded flat, cleaned and the base was primed with white spraypaint. I airbrushed TCB Grape Pearl in two coats, then hand-brushed the gold border.
Conclusion.
Although very large, this is a stunningly brutal ship. Its construction was a bit tricky, some instructions or a planview would have helped. It is by far the largest AOG mini, and may be the largest capital ship they will produce.