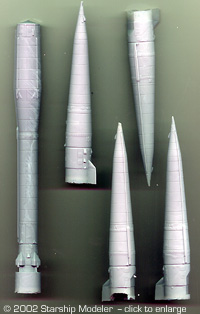 Main and strap-on boosters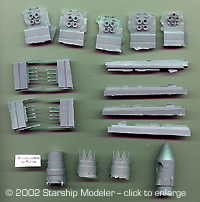 ^ Detail parts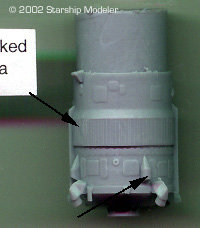 ^ I had to look long and hard to find any blemishes on the kit or with the casting

Image: Instructions are concise and clear
What You Get
What you get inside Cutting Edge Modelwork's signiture robust black box is the first really accurate kit of the Soviet R-7 booster in the configuration used with Gagarin's Vostok spacecraft. Apex/AER and Airfix made plastic kits, which show their age (Airfix) or low-pressure injection, limited run production (Apex/AER). Both require significant work to accurately depict the Vostok 1 launch.
Forty-four or so grey polyurethane resin parts in two bags, plus instructions, make up the kit. Mastered by NASA patternmaker Ben Guenther, the parts are crisply detailed and almost perfectly cast. Cutting Edge are predominantly a manufacturer of aftermarket accessories for model aircraft, and have a well-deserved reputation for high quality products. That pedigree is evident in this kit; I had to look long and hard to find any flaws at all. There was one small gouge on one part; on that same part (the lower part of the second stage) several of the tiny raised panels ringing the bottom of the cylinder are slightly skewed. Unless you get really, really close up, you won't notice either. My review sample also had an odd grey pattern along one side of the central booster. The area has no different surface texture than the surrounding areas, nor is it sticky (as if uncured), or raised or lowered in relation to its surroundings. Prominent though it seems, it should disappear under a coat of primer.
Instructions are typical of Cutting Edge. Pictures and concise text walk the builder through assembly in a logical fashion. The only thing missing is a paint guide (which should be generally similar to the earlier Sputnik configuration).
Assembly and Finish
Assembly will require some care and patience. The lattice-like bracing that holds the strap-on boosters in place are provided as single lengths of very thin resin, which will be a challenge to cut from the casting blocks. Likewise, the triangular bracing that holds the second stage is very thin, and will require careful trimming of the flash between the struts. Otherwise, removing the casting/pour stubs from the parts should be a relatively simple matter with razor saw and sandpaper.
Conclusions
This a fine little kit that should appeal to fans of the early space programs. Due to the fineness of some of the parts, I'd recommend it to modelers with some experience working with small and fragile parts - and who have steady hands. If you've successfully used aftermarket detail sets for smaller (1/48 - 1/72 scale) aircraft, you should have no problems with this kit.
Many thanks to Meteor Productions for providing the review sample. Manufacturers and retailers, interested in getting your wares reviewed and publicized on a site averaging 3000+ readers a day? Contact us!