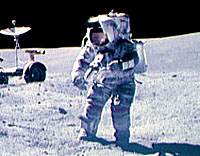 Image: NASA archives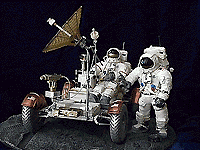 Image: Courtesy of EVA Models
"THAT'S ONE SMALL STEP FOR A MAN, ONE GIANT LEAP FOR MANKIND." The national effort that enabled Astronaut Neil Armstrong to speak those words as he stepped onto the lunar surface, fulfilled a dream as old as humanity. The six Apollo missions that landed on the moon brought back a thousand pounds of lunar samples and a wealth of other scientific data. In all, 12 American astronauts left their footprints in the lunar soil during Project Apollo. Three additional lunar landing missions, Apollos 18 through 20, were canceled after a series of congressional budget cuts even though the required hardware had already been constructed and paid for.
The spacecraft had three parts: A Service Module (SM), a Command Module (CM), and a Lunar Module (LM). The SM contained the principal propulsion system of the spacecraft, propellant, electrical system, water, and other supplies. The CM and SM flew together as a unit until the end of the Lunar round trip, when the SM was jettisoned prior to atmospheric entry. The module in which two of the three crew descended to the moon is the LM.
Beginning with Apollo 15, the US' lunar epxpeditions began carrying the Boeing-built LRV (Lunar Roving Vehicle), or just "Lunar Rover" as it was commonly referred to. This lightweight buggy, rolling on four independently-driven piano wire mesh wheels, expanded the area astronauts could cover during their EVAs. In addition to providing tool and specimen storage, the Rover mounted a TV camera which could be remotely operated by Houston controllers. This enabled Earthside personnel to view what they wanted on the moonscape and allowed them to capture the stunning final Apollo lunar liftoff of Apollo 17's LEM ascent stage.