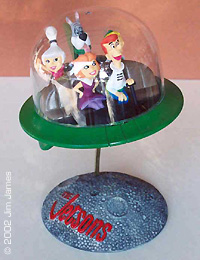 The neat thing about this kit is that it's so relaxing. It's nice just to open the box and throw the kit together knowing that it'll turn out great.
Try as you may, they're aren't a lot of things you can do to improve this kit. The only problem I found was the gaps around the engine(?) tips and fins but these were easily filled.
I made two slight modifications. I painted the exhaust smoke since I'd never seen clear smoke. Although it's possible this could happen in the future, painting the exhaust eliminated the need to hide the seam in this clear part.
I added antenna to Elroy's beanie by driving a pin into his head and adding two circles of clear styrene cut out with a hole punch.
I also thought the stand was too tall and replaced it with a brass rod. This meant that I had to fill the slots in the stand and bottom of the hull which I did with sprue and putty.